It seems this article is a stub and needs more information.
Feel free to edit the article and expand it.
Leonardo Roth
General Information
Gender:
Male
Age:
16
Hair Color:
growing back naturally brown
Eye Color:
Brown
Address:
Los Angeles, California
Occupation(s):
Patient
Aliases:
My Boy Leo (Dash),

"The Rebel" (show's label)

Family & Friends
Family:
mom
dad
Relationships:
Emma Chota (ex-girlfriend; Still in love with)

Kara Souders (kissed; Hooked up)


Friends:
Jordi Palacios (best friend)
Dash Hosney (best friend)
Emma Chota (ex-girlfriend; best friend)
Kara Souders (best friend)
Charlie Hutchinson
Enemies:
his old soccer enemies

Jordi (sometimes)

Other Information
Interests:
soccer
Education:
in high school at Ocean Park Hospital
Vulnerabilities:
Cancer
Weaknesses:
Cancer
Series Information
First Appearance:
Pilot
Last Appearance:
Waiting for Superman
Portrayer:
Charlie Rowe
Leo Roth 
is a main character on 
Red Band Society
. He is a patient at
Ocean Park Hospital
for cancer in his leg (osteosarcoma), where he underwent amputation. He appears to be currently undergoing chemotherapy. When he meets Jordi, he begins to morph back to the leader he once was. Then something amazing yet awful happens to Jordi that couldn't happen for Leo. Leo becomes jealous, but soon overcomes it. Leo played soccer before he lost his leg, his plans were to go to college and become a professional. Leo then finds out the cancer has spread and he can't go home. He is devastated.
He is portrayed by Charlie Rowe.
Biography
Edit
Season One
Edit
Leo Roth is first seen smoking in a supply closet with Dash (his best friend who knows where all the medical marijuana is) when Nurse Jackson walks in on them. 
She takes them to their classroom where we meet Emma, Leo's now ex-girlfriend, and learn through a flashback that they had once dated. However, Charlie sees it as Leo getting scared and blowing it. We later see Leo when he is in his bedroom talking to Dr. McAndrew about not wanting a new roommate. Moments later he meets Jordi, his new roommate, who explains that he needs to have his leg removed the next day. When Jordi says that Leo does not know what he going through, Leo removes his bed sheet to reveal that he too has an amputated leg.
Action and Personality
Edit
Leo is known as "The Rebel" of the group and seems to be blunt at times, but does his best to lift everyone's spirits.
He seems to have slipped off the mark a bit leader-wise (according to Charlie) and everyone is trying to pull him back.
He is smart, athletic, compassionate, and a bit of a bad boy.
Thoughout Season 1 Leo never gives up no matter the obstacles that face him in his challenge to become cancer free.
He also can get jealous easily especially when he thinks Emma is starting to like Jordi.
Relationships
Edit
See: Emma and Leo
Start up: Prior to Pilot (1x01)
Break up: Prior to Pilot (1x01)
Reason for break up: Leo got scared and "blew it"
Back Together: Ergo Ego (1x06)
Break Up: How Did We Get Here (1x09)
Reason for break up: Emma decided to leave the hospital because she knew that Leo didn't understand her or her illness.
Then she finds out he hooked up with Kara and she is devastated.
(Emma actually has a thing for both Jordi and Leo and is unruly at choosing who she wants to be with)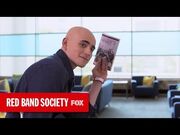 He is the adaptation counterpart to the Polseres vermelles character, Lleó.
Like his roommate, Jordi Palacios, he had cancer in his leg, but had it amputated.
He is one of three patients that smoke, along with Dash Hosney and Kara Souders.
He came up with the idea for him and his fellow pedeatric patients to wear red bands on their wrists.
He still has feelings for his ex-girlfriend Emma.
He is kissed by Kara Souders in There's No Place Like Homecoming.
Jordi: "I have cancer in my leg. Dr. McAndrew's taking it off tomorrow."
Leo: "You're gonna get through it."
Jordi: "Easy for you to say."
Leo: removes his bed sheet to reveal that he has an amputated leg
(to Jordi): "Your body isn't you. Your soul is you. And they can never cut into your soul."
Emma (to Leo): "They gave YOU a roommate?"
Leo: "I must be dying, right?"
Leo: "You said, 'Luck isn't getting what you want, it's about surviving what you don't want."
Emma: "Now you just pour the melted marshmallows over the crispies and mix."
Leo: Sounds simple enough but I've been known to burn toast so... (Backs away)